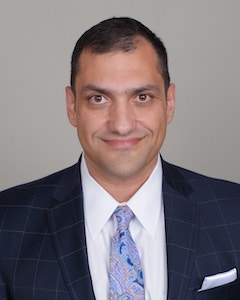 Soroush Dastan
I am an Iranian born first-generation American who immigrated to the United States with my mother at the age of five. I am a product of Arlington and Loudoun County public schools. At a young age, I learned that I need to know the English language well to stand up for my rights, fight for my rights and demand what ought to be mine. I went on to play sports in high school and club football at George Mason University. I learned that hard work, persistence and resiliency is key to success in both individualized sports and team sports. Six years prior to becoming an attorney, I worked for two large national law firms representing international corporations. I learned that there is not much enjoyment for me in working for faceless international corporations.
Upon graduating from law school I worked for a personal injury law firm that had four partners who also represented wrongful death cases and medical malpractice cases. There, I worked closely with one of the best attorney's in the country on a wrongful death case that made national headlines, the 2006 Virginia Tech shooting. I learned that David can go against Goliath and give Goliath a good fight in our legal system. It was then that I decided to be master of my fate and captain of my ship and started my own law office, right in the community where I grew up.
Without a dime of help from anyone, and with hard work, persistence and resiliency I became the managing attorney of Ashburn Law Office, PLC. Shortly after I opened Ashburn Law Office, I received a call from a potential client who wanted to sue a well-known billionaire's organization, this client had been turned down multiple times from other law firms in our area when they found out who the opposing party was, but I gladly accepted. I fought for and obtained the justice my client was looking for through litigation, our legal system and my commitment to a successful result. The legal system works, you can stand up and fight for your rights and demand what ought to be yours, if you understand its language. I am that right person you need on your team, who is not afraid and is willing to work hard, be persistent and resilient. I enjoy working for the people in my community, providing legal services with outmost attention and care where clients feel like they are treated like a good friend.
Please contact me for a consultation in the areas of personal injury, estate planning and family law.
Legal services are provided throughout Northern Virginia but not limited to Ashburn, Sterling, Reston, Herndon, Leesburg, Chantilly, Leesburg, Fairfax County, Loudoun County, Prince William County and Arlington County.
Education
J.D., University of Baltimore School of Law, Baltimore, Maryland
B.A., George Mason University, Fairfax, Virginia
Broad Run High School, Ashburn, Virginia
Jurisdictions Admitted to Practice Virginia

Professional & Bar Association Memberships
Virginia Trial Lawyers Association
Featured Pro Bono Activities
Uncontested Divorce
Ashburn Law Office works with Legal Services of Northern Virginia each year to provide legal services such as uncontested divorces to our community's low-income and neediest population at no cost.
Non-Legal Activities
Ashburn Law Office purchases and donates new toys and bicycles to the children of our community's low-income and neediest population at no cost.We also provide donations to the Capital Area Food Bank.