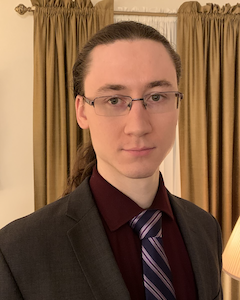 Alexander Phillips
Associate Attorney
I grew up in northern Virginia, where I attended some of America's most demanding public schools. I took a total of eight AP classes, and received the maximum score of "5" on seven of them before graduating. (Alas, I managed only a "4" in AP Spanish.)
The experience taught me about the importance of education and hard work, but in some ways, I value my time as a Boy Scout more. My academic career focused on self-improvement, but scouting encouraged me to think of my responsibilities to younger scouts, my community, and the nation. To become an Eagle Scout, I had to internalize these values and practice them by organizing and leading a community service project which restored a section of the grounds at Riverside Park.
I went on to study Political Science at Virginia Tech. During that time, I grew more engaged in, yet ambivalent towards, the American political and legal systems. On the one hand, I came to appreciate how fortunate we are to live in a time and place where civil society and the rule of law have solid foundations. On the other hand, these qualities have never equally benefitted everyone--and cannot be taken for granted by anyone.
We often fixate on the spectacular climaxes and "great games" of history--the wars, the revolutions, the technological breakthroughs--but most human experience takes place in the intervening expanses of peace and routine. I believe that a society's true quality is measured by its ability to foster freedom, prosperity, and fairness in these vast plains of everyday life, where the "small games" of birth, business, marriage, and death (and taxes) take the fore. In my opinion, a lawyer's highest calling is to make sure society does just that.
After graduating, I realized that I could combine the values I learned from scouting with the knowledge I had gained in school. By becoming a lawyer, I could learn about the machinery of government while helping people in my community. As a result, I enrolled at George Mason University's law school, where my convictions were both challenged and reinforced. There I saw more concretely than ever the gears that connect the rarefied heights of Supreme Court opinions to the day-to-day decisions of trial courts--which I had the privilege of observing firsthand in a series of internships in both private law offices and the Fairfax County Circuit Court. As an intern, I read and analyzed a wide variety of civil cases and routinely wrote recommendations for sitting judges. I eventually graduated cum laude before passing the Virginia State Bar Exam in February 2020 and receiving my law license in September 2020.
At Ashburn Law Office, I work with Mr. Dastan on a variety of civil and criminal cases, with a special focus on estate planning and plaintiff's litigation. For example, when assisting with estate planning, I personally walk clients through the provisions of their Last Wills, Advanced Medical Directives, and Durable Power of Attorney documents, listen to their feedback, and craft the documents to best reflect their last wishes. And as a member of Ashburn Law Office's litigation team, I help our clients seek redress for personal injuries, car accidents, slip and fall incidents, deceptive business practices, criminal prosecution, and more. With every case, I ensure we practice the fullest measure of professionalism for every client--along with a personal touch that lets them know they have unshakeable allies in the legal system.